Irish house music? JACK O'NEIL finds it in A HOUSE in Dublin. Picture BLEDDYN BUTCHER
A-House very nearly collared some bad press last May. With damn near the single of the year behind them in the Jamesian schizo-folk Anglo-Irish discords of 'Kick Me Again Jesus' they left Dublin for Belfast.

Only a communications breakdown 'twixt the NME live supremo and the local stringer avoided severe ticking off for what they reckon was their worst gig ever. The shit-scared A House had escaped and still await their first bad write-up.

A-House are playing their first gig in three months in the desolate but packed Arts block of Trinity College Dublin. 'Jesus' is inspiring NME headlines on a regular basis; back-to-back the motorcycle guitar meets Mark E of 'Y.O.U.' and the more sedate 'Snowball Down' have infiltrated the pick of '87's 45s and 'Heart Happy' is out this week on Blanco Y Negro. Neither saint nor sinner it's their weakest to date but growing gradually. The live set is overflowing with songs I've never heard or heard of but Dave Couse's voice demands attention - even for the most literal and longwinded of titles: 'Hay While The Sun Shines', 'Don't Ever Think You're Different'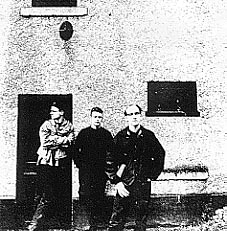 and 'This Child Is Yours And Not Mine'. These are good deeds done well.

In a previous life the four Housers were draftsmen, garda (an Irish cop), fitter-turners and a clerk in a gin company. Now they're Fergal Bunbury (guitar), Martin Healy (bass), Dermot Wylie (drums) and Dave Couse (vocal and acoustic) who is ceremoniously seasoning a roll from the Long Hall bar. Between bites he refutes the suggestion that his flying jacket and acoustic guitar licks make him the new Eddie Cochran.

'I don't play acoustic guitar licks. That's the first time I ever heard that- it's not bad though, cos he can sing. I usually get Jonathan Richman or Lou Reed, people who can't sing".

Couse is certainly one for straight talking and singing - there's a confessional quality about many of his words whether the situation is real or imagined. He leaves himself wide open. "I think people respect you more if you do that. They'll say Jesus that's me, that's exactly the way I feel but he's not afraid to say it." Couse is reluctant to go too deeply into the lyrics - he reckons people are usually disappointed when they're explained, especially the fan who came up with the wonderful prophylactic interpretation for the line 'I'm the only one who's gonna get wet' in 'Snowball Down'.

But there's more to this playhouse than boy-meets-girl-loses-her-is-very sad. Martin explains: "'Stone The Crows' is about Stock Aitken Waterman and how much we hate them. I saw an interview with them and I couldn't believe what they were saying about how the person has to look right and how they're all good looking people. They're killing music'. This particular House policy runs: 'I have no heart i have no song but you can count on SAW to make things go wrong ... Good looking dumb and tall now you've got it all'.

The most remarkable aspect of A House is the sheer number of songs they can call on-43 are going concerns and available at a moment's notice. With so much ammo everyone is bound to get caught in the crossfire, themselves included. Check 'Wallies Like Us'.
"There's a wally in everybody. Everyone's a wally - we're wallies, we're not cool trendy bastards".

So far A House have managed to remain remote from the hyperbole that rules the 'Irish Rock Biz'- the Hot Dublin Band syndrome. Dave spells it out: "Every band in Dublin is a hot Dublin band. Aslan- hot Dublin Band. Hothouse Flowers-'hot Dublin band'. Fergal nails them all: "If you've got a single out you're a hot f--ing Dublin band."